"Finally! Discover The Step-By-Step Figure & Bikini Prep System Responsible For Turning Hundreds of Newbies Into Champions Their First Time On Stage!"
No more second guessing yourself and changing your plan every single day.
No more wasting time and $1,000s because you didn't have the right information.
No more scouring the web bits and pieces of information that won't work.
No more being scared that you will embarrass yourself on stage by not being ready.
This is the first step to making your dreams of competing come true. You'll have everything you need–giving you the unfair advantage over everyone else on stage!
You've tried to prep for a competition before but didn't make it all the way.
It seems like you are not making progress, no matter how hard you train in the gym.
Your thighs are not getting any smaller and you fear they never will.
You're diet is all over the place and you don't know how to fix it.
You are over 40 years old and feel maybe its too late to even start.
Don't know how to find the right show for a newbie competitor.
Felt isolated and alone, because no one understands.
But you are determined to do this no matter who says you can't… 
If any of this rings true, then I have something you are going to love. I'd like to invite you to the ONLY figure and bikini online prep class designed for newbies – "Contest Prep Secrets University : A one-of-a-kind course designed by an IFBB Pro who knows exactly what you need to land in the winner's circle!"
"I Will Personally Walk You Through My Prep System That Has Helped So Many Women Not Only Compete–But Take Home a Trophy Their First Time On Stage!"
You'll learn what the judges are looking for so you end up in the first call out.
You'll feel comfortable posing, even in 5 inch heels and a skimpy bikini.
You'll be surprised each week at how much your body is changing.
Before You Discover The Simple, Step-By-Step Formula You've Been Searching For…Check Out What These Amazing Students Accomplished With My System!
Felicia won 3 trophies her first show!
Larissa improved her placing!
Jane won 3 trophies her first show!
Renee rocked her first competition, winning in a competitive class!
Melissa won 2 trophies and qualified for Nationals!
Sheryl won 2 trophies and qualified for Provincial Nationals in Canada!
By Now You Are Probably Asking Yourself, "How Is Kimberly Going To Teach Me Everything I Need To Know About Competing In Just 5 Short Weeks?"
I've designed this course to go much deeper than any other cookie-cutter program you will find on the web that gets you all excited and then leaves you alone to struggle your way through it. Sorry, I care too much to do that to you.
I'm going to hold your hand and guide you all the way through this one. It's not okay with me for you to do anything but make it all the way to the stage and feel good about your investment with me here.
Here's What Happens After You Register:
You'll be sent an email to complete your registration to access our course portal. There you will find the entire 5 modules of training material laid out for you in a clear, easy to follow format.
You will get access to 5 recorded 90-minute teleclasses where I answered questions about each weekly training segment and provided additional coaching.
You should review each module's training material before the recorded teleclass. This is the best way to get the most out of this amazing course!
All recorded teleclasses are posted on the course portal for you to listen at your convenience.
All 5 modules include printable notes (PDF) for you to review and strengthen your knowledge. 
You will get access to our private Facebook group to ask me questions and get support from other ladies just like you!
What You'll Learn In The Course…
In this module, you'll go through an orientation that will teach you all about competitions. You'll also get the tools to prepare mentally for prep. You need the right mindset to make it all the way to the stage. Training for a competition requires you change your social activities and follow a more regimented life. This is also the time to set realistic goals and show timelines.
Take the Stage Ready Quiz to assess where you are now.
Learn the difference between figure and bikini.
Find out more about the various federations.
Handy competitor checklists and budget.
During week 2, you'll learn the best way to train in the gym. The workouts for figure and bikini are specific to a look and you should be training for your stage goals. The volume of work you do is dependent on several factors but the expectations of the judges should help guide your timing and frequency of training. You'll also learn the best way to structure your cardio workouts and the which types to do a each phase of your prep.
Get all 4 phases of figure and bikini workouts.
Get a 16-week cardio conditioning guide.
A handy exercise log to track your progress and stats.
During week 3, you'll learn about contest nutrition and supplementation. This by far is one of the most important sections because diet is 80% of the results you end up with on stage. So instead of "going on a diet" we will create a plan to eat every week that allows us to reach our goals. With the knowledge you will gain from the deeper learning on macronutrients, you be able to move through your phases of training with more success.
Choose from 1200-2400 calorie meal plans. 
Vegan & Vegetarian plans.
Food exchange lists to make swaps.
The 6-step formula to structure your macros.
During week 4, you'll learn the art of posing & presentation. You will hear directly from the judges, what they are looking for and exactly what will keep you out of the first call out. This information is critical to first timers to ensure you don't blow all your hard work by not knowing what to do on stage.
Includes my "How to Wow the Judges Checklist." 
"The Art of Presentation" a 90-minute audio training.
"The Top 5 Things That Drop Your Placing a 90 min audio training.
Figure & bikini posing videos with instructions on how to look flawless!
During week 5, you'll learn how to get the final conditioning needed for the stage. This is where all your hard work comes together and the final pieces of your prep are mapped out. You will learn all the steps to getting rid of excess water and bringing in full muscles and not come in soft on stage. 
You get a 7-day diet, workout, and supplement plan.
Download the 10-days out checklist.
A competition day packing list.
Backstage tips you need to stay perfectly peaked before pre-judging!
"I got my pro card the very first time I stepped on stage!"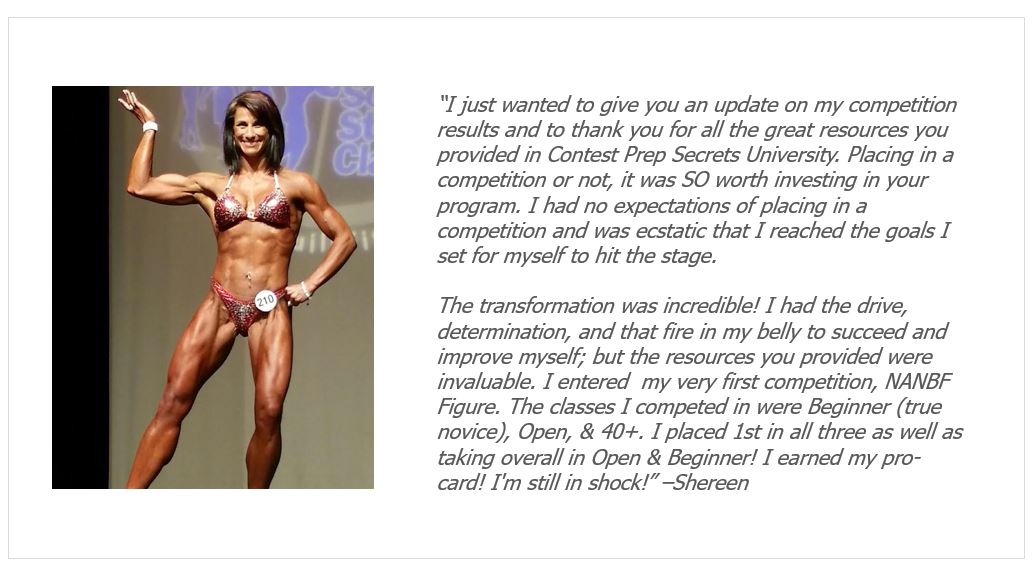 "I qualified for Nationals my first show!"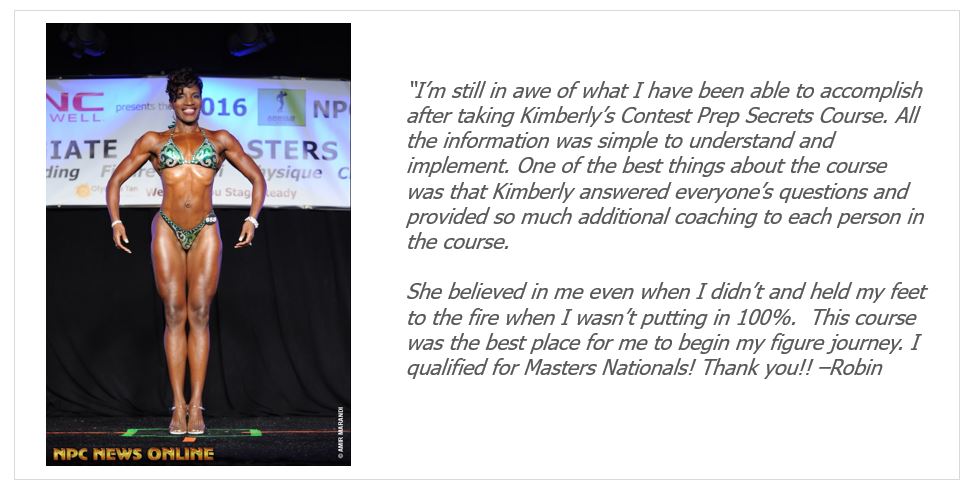 ***THIS IS NOT A LIVE COURSE***
The LIVE course just ended but you can get access to all the prep materials, teleclass recordings, module notes, Facebook group, and more instantly!
Act Now…& Get These Exclusive Bonuses!!!
One of the most frustrating things about competing is not knowing how to fix the areas of your prep that are not going well. There are over 20 ways to adjust your program. It is critical to know these adjustments and how to implement them. Kimberly has created the only Fix Your Prep Blueprint™ that provides the secrets to pinpointing what is going wrong in your prep and how to course correct.
Now that you have stepped off stage, you need a plan for transitioning back to a healthy pre-contest fitness level. One of the things that keeps many figure athletes from competing is the fear of gaining all the weight back right after their show. It is normal and necessary to increase your weight but if you don't prepare, it may be hard for you to find a balance between being stage ready and fit. Avoid the post contest blues with this plan.
You will get access to our private Facebook Accountability Group where you can ask questions, get feedback and receive support from your fellow figure and bikini sisters, allowing you to capitalize on the synergy of this amazing group of ladies on the same path to the stage. You can share progress pics, recipes and network with the new friends you'll meet in the class.
So, to recap what you are going to get…
My Contest Prep Secrets University Course which includes:
5 Training Modules with Course Downloads (PDF & MP3's)
5 Recorded 90 minute Q&A teleclasses with Kimberly
5 Modules Notes (PDF) to recap & strengthen your learning
6-months Access to the course portal & materials
Plus these 3 exclusive bonuses!
"Fix Your Prep Blueprint"
Private Facebook Page (priceless!)
You are probably wondering right now…
What's this Going to Cost Me?
Look, the reality is, training for a competition is one of the most expensive endeavors. You'll end up investing thousands on everything you need to compete (supplements, gym memberships, suit, shoes, tanning, show fees, etc) that you have no control over. Without getting the right training and coaching, you could step on stage and end up wasting all that MONEY you spent. And maybe a bit embarrassed you even tried in the first place. I'm totally committed to teaching you the real system to prep that will help you build a competitor body you can be proud of!
Right now you can get into my course and get all the help you need for only $597 $297! 
By taking quick action, you will save $300 and have access to the course for the next 6 months!
But this discounted tuition is for a limited time, so don't wait to register!
Ready to reserve your spot?
Yes Kimberly! I'm ready to start my journey to the stage!
I understand that I will receive:
Kimberly's full "5-Step Stage Ready System," delivered online.
5 recorded 90-minute Q&A teleclasses with Kimberly 
5 Modules Notes (PDF) to recap & strengthen your learning
Access to the course materials for 6 months!
I understand that I will also receive these 3 exclusive bonuses:
BONUS #1: Kimberly's Fix Your Prep Blueprint™ 
BONUS #2:  A 30-Day Post Contest Plan 
Bonus #3:  Access to our private Facebook Group (priceless!)
Still have questions before you reserve your spot?
What if I decide the course isn't for me? Can I get a refund?
I'm confident that when you join us in the Contest Prep Secrets University Course, you're going to be so happy you did! Because I know that if you apply the steps you're going to learn and put in the training work, you will be able to step on stage.  Since this course is not live, you get instant access to all the materials once you purchase. There are no refunds.
What if I want to compete in bikini not figure? Will this course work for me?
This course is for Bikini and Figure newbies who want straight forward information to prep for their show. There will be separate information for bikini and the best training regimen to bring out the DIVA in you on stage!
What if I'm not ready to start my prep right now?
No problem! You will get 6 months access to the course training materials and recordings. You can register, get access to the material and private Facebook group to help you plan out your show for next year. You can also download ALL the material immediately after you register and use it when you are ready.
How many meal plans are you offering in the course? Are they customized?
All the meal plans are based on the fact that every athlete is different and need to make adjustments to keep progressing each week. The meal plans range from 1,200 to 2,400 calories and you get food exchange lists to help you adjust throughout your prep. We even have vegetarian & vegan diet plans!
What if I have already competed before?
Great! You can still take the course if you've done a few shows and are looking to improve your placing. But if you are a seasoned figure athlete and working with other coaches or programs-you should skip taking this beginners course.
What if I'm short on cash, is there a payment plan?
No worries, I got you! For a limited time, there is an easy 2-payment option to make this course available to as many women as possible. You can get started today after making your first payment. The final payment won't be due for 2 weeks after you register. 
Meet Your Coach
Legal Disclaimer
The information in this program was generated from scientific and medical research from various experts in the body building industry. I have several years of experience in researching, developing and following fitness and nutritional programs, and the information presented in this program is of my own personal and professional opinion and does not necessarily reflect those of other organizations, professionals, or government bodies. Any healthy, active adult can attempt this guide safely, however, the user should consult with their physician first, especially if any cardiovascular, pulmonary, or metabolic symptoms exist, before following any nutritional and exercise programs in this program. The outcomes depicted in testimonials are no guarantee of future results using this program but are an indication of their personal effort and success. The user assumes all liability and risk associated with undertaking the suggested diets, supplements, and programs in this program.
Still Have Questions?
Contact our customer service team via email: